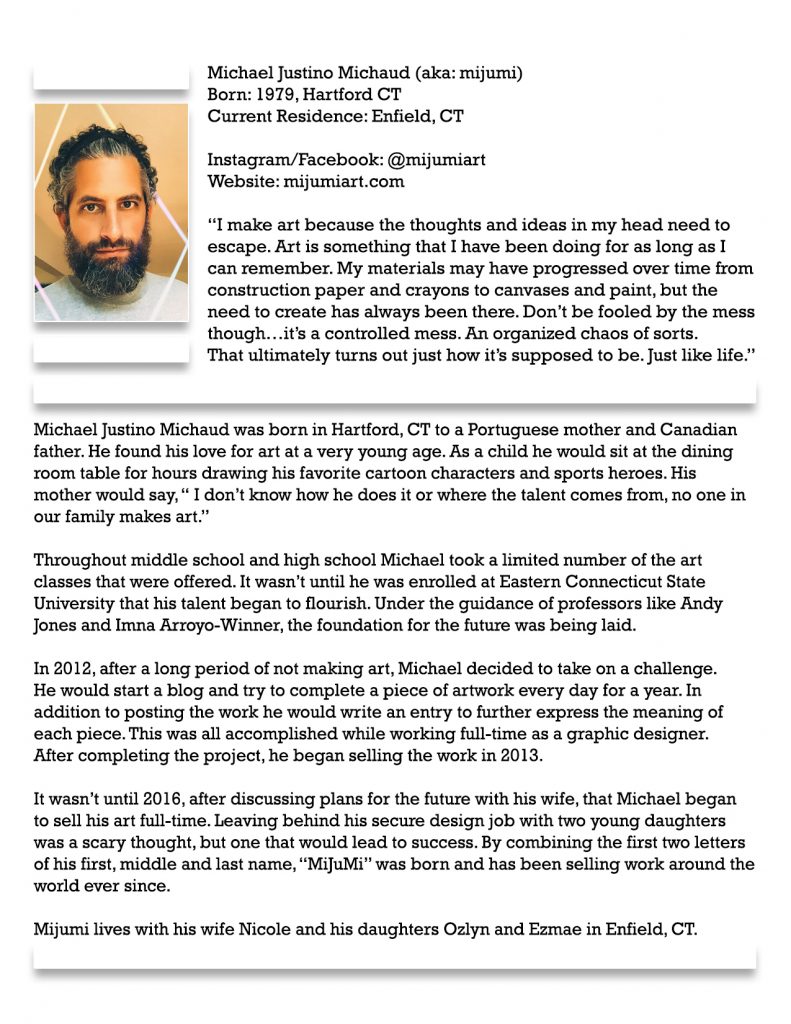 . . . . .
UNTIL NOW
This piece is filled with symbols that represent the history of my life.
Scroll down to read my story… until now.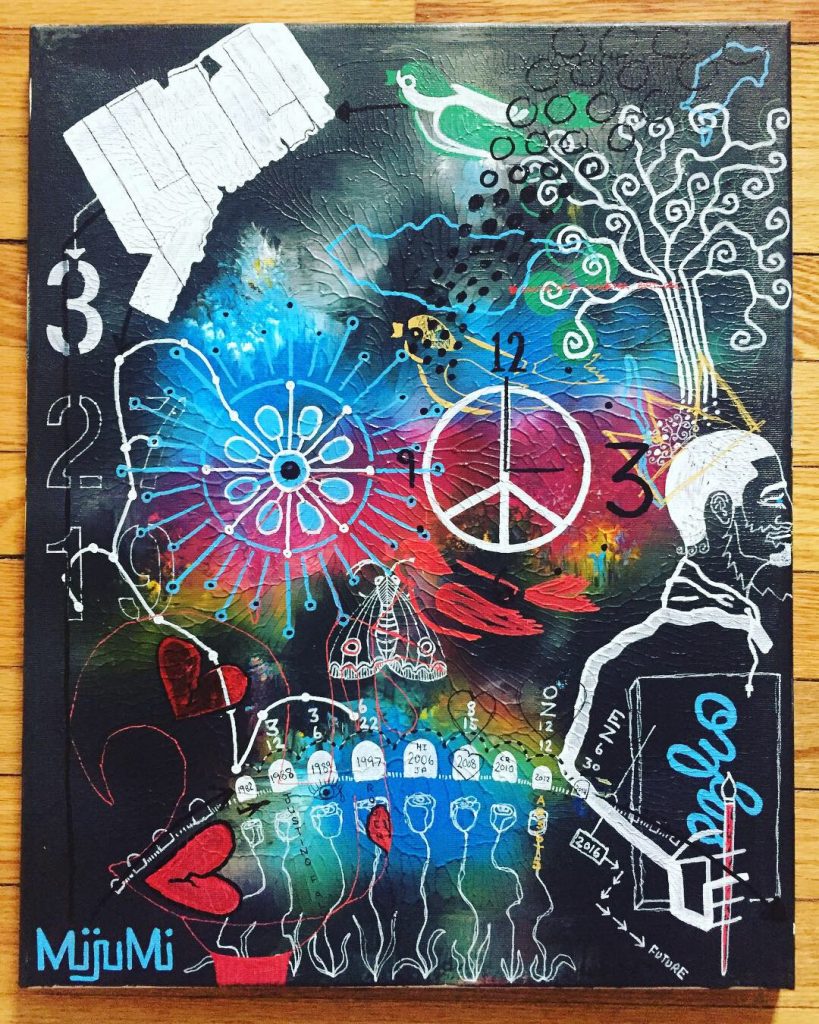 The shape of the islands of Madeira, Portugal in light blue with a marker of Santa Cruz. This is where my mother's side of the family is from. This is a place I have never been to or saw, but there is a connection I can feel.
The white silhouette of Connecticut with 1979 through it and the town of Enfield in black. White for snow. 1979 my birth year. Enfield where I have lived most of my life.
Significant dates written on headstones. The headstones represent the past and that these events are markers that I feel have influenced my entire life.
1982 – My first memory. My mom takes me to Key West, FL to visit relatives. I remember being afraid to get off of the airplane. There used to be stairs that came off of the planes onto the tarmac. I remember feeling scared to go down them. But, I also feel that visiting Key West what gave me my love for travel and tropical environments.
1988 (March 12) – The passing of my avô (grandfather in Portuguese). Justino F. Alves was the most important man in my life at that time. He was my hero. I looked up to him literally (he was 6' 3") and figuratively. I remember my mother showing me that he was gone from this world. Taking me to each room in his house to show me that he is not here anymore. I remember him being a great musician and volley ball player. I remember the way his bright blue eyes looked and how white his hair was. Everyone loved him so much. Everyone.
1989 (March 6) – My tenth birthday. I remember this being the first time my father was not at my birthday party in our house and that my parents' divorce would change everything forever. It would bring out the worst and the best of me.
1997 (June 22) – I woke up to my mother shaking and screaming at me that Roger had stopped breathing. I told her to call 911. I tried CPR. There was an ambulance ride. The doctor told us in the waiting area that he didn't make it. I had lost who I consider my real father. Roger Myron Hastings, Jr.
2006 – Japan. Nicole and I head to Japan to teach English for a year. I am blown away by the differences in culture for the first time in my life. Books of our adventures in Japan could be written.
2008 – Nicole and I get married. Our wedding was the most fun time I have ever had at a wedding. If I could relive that day every day I would do it in a heartbeat. Marrying Nicole gave me the most secure feeling I have ever had in my life and we would walk through the rest of time together.
2010 – Travel. Nicole and I went to Hawaii (my 4th time) and also spent three months in Costa Rica. Hawaii will always hold space in my heart. I've experienced some of my highest highs and an extremely low point in my life there. And Costa Rica is just amazing on every level.
2012 – Ozlyn Rayne Michaud is born. The birth of my first daughter (12-12-2012) came almost at the very end of a yearlong art project (AR36T5.com) that I was working on. I created one piece of art and wrote about it every day for the year. At the end my masterpiece was born. She is quiet. She is kind. She is sweet. I can tell she has a lot to say, but likes to keep it to herself. Maybe the next great writer or artist.
2014 – Ezmae Myron Michaud. Our second daughter is born (6-30-2014). She is loud. She is funny. She is a natural. Ezmae will walk through this world without effort. What she will become is up to her. I believe nothing can stand in her way.
2016 – mijumi ART. This was the first year that I began selling my artwork full-time. Nicole suggested that I leave my full-time graphic design job so that we could both work from home and live life the way that families should, together.
The moth. A symbol for my avó (grandmother in Portuguese). Like a moth, Eva Alves always saw the light. She held a strong faith. She was vulnerable, but quick to adapt. She was small in stature, but a large presence in my life. She was not my biological grandmother, but she poured all of her love into my mother, brothers and I.
Eight white roses. My mother was born in August (the 8th month of the year) and the roses represent her. She is a beautiful person. She is the most resilient person I know. Her "life goes on" attitude and love for people are always present. What I have seen her endure will always have a lasting impact on me. She is strength. She is love. She always has a smile.
Three birds. The three birds represent my two brothers and I. The times we have shared will never be forgotten. We have been through hell and back. The fun. The fights. The laughs. The tears. I love them both with all my heart.
Light blue sun. This is my wife Nicole. She is smart. She is funny. She is kind. She is creative. She is understanding. She is loyal. She is everything. Like the sun she gives life. She gives energy. Without her I am lost. She has been the light of my life through some dark times. She will always shine on.
The light blue design on canvas. The letters "oz" and "ez" are blended together on a canvas that I am holding. It is a symbol of my daughters and that they are the best works of art that I have ever created.
The tree. The tree is a symbol of family, the different paths in life that have been taken and friendships I have made. There are too many of you to list, but if we have shared any kind of moments together you know who you are.
Outline of Galo de Barcelos. The Portuguese rooster in red is for my love of making Portuguese art. For my ancestors. For Portugal.
Broken hearts on rooster. There are three broken hearts on the rooster. Each one symbolizes a time that I lost a father figure in my life. One, my biological father. Two, my grandfather (Justino F. Alves). Three, my real father (Roger Myron Hastings, Jr.)
Me. I am the figure in white. With a canvas and a brush in hand and an appearance that is always changing I am walking through this world. My back is facing everything that has happened to me in this life. Not forgetting these events, but holding them with me as I move forward into the future.
Yellow crown. This is a well known symbol of Jean Michel Basquiat. He is my favorite artist and someone who I will always draw inspiration from.
Three birds colors. The green, yellow and red of the birds are for my love of Bob Marley and reggae music. The messages and references of Bob can be seen in various works of mine.
Peace. The symbol of peace is something that I wish upon all people.
The numbers of the clock are to show that life goes on and the feeling that I have that life is starting to move super fast.
003. The sun, peace sign and three on the clock make up the number "003". This number and the skull that is formed by everything making up this piece represent the nickname "Bones 003" given to my by one of my greatest friends, Kevin Huss.
The flower is a symbol of life. Life is all around us. We give life. We live life. We are life.
There are arrows throughout the piece are a sort of path into my timeline and the future.
3-27-19 is the date that this piece was finished. It is everything I am until now.
Signature. Mijumi is the first two letters of my first, middle and last name (Michael Justino Michaud).